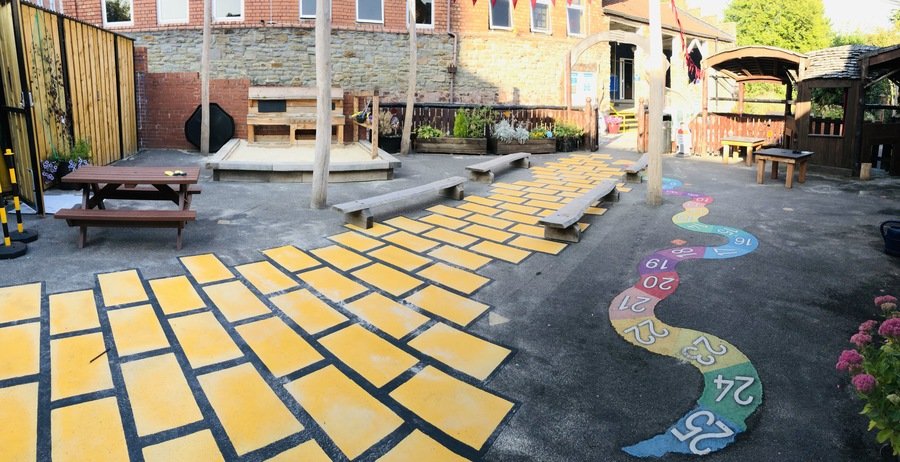 Watch the video below (made by our children) if you're about to join our school!
Autumn topic
The children enjoyed a variety of activities this month. Some of which included making vegetable soup, hammering tees into pumpkins, scented playdough to make pumpkins, exploring the contents of pumpkins, making hedgehogs from clay and many more fun activities.
Nursery Session Times
Option A

:

15 hours Free Nursery Entitlement Term Time Only

Option B: 15 hours Free Nursery Entitlement plus
Wednesday afternoon childcare at £20, Term Time

Only

Monday 8.40/8.50am- 3pm

Tuesday 8.40/8.50am – 3pm

Wednesday 8.40/8.50am- 11:30am

Monday 8.40/8.50am- 3pm

Tuesday 8/40/8.50am – 3pm

Wednesday 8.40/8.50am- 3pm
We accept childcare vouchers for the Wednesday afternoon session. For more information please see a member of staff.
Dressing and Clothing
We encourage children in Nursery to develop their self-help skills. To support children's independence with toileting, dressing and undressing they should wear clothes and shoes they can easily pull on and off. Clothes should also be comfortable and practical. It is essential to make sure your child has the correct clothes and footwear to play outside in all weathers.
Nursery Checklist:
A set of spare clothes

Baby wipes

Nappies

Water bottle

Waterproof coat

Wellies (these can be left next to your child's peg)

Sun hat and sun cream
Please label your child's clothing, wellies and water bottle.
Skills You Can Practice At Home
Fine Motor Skills (develop pencil control and use of scissors)

Playdough - easy to make and lots of recipes online.

Threading - String and Penne Pasta makes for a great threading kit.



Self Help Skills

Toileting Independently including washing and drying hands.

Dressing Independently - Clothes, Socks and Shoes.



Maths


Counting Objects.

Identifying Numerals.

Activity Worksheets to try at Home
| Name | |
| --- | --- |
| Cutting Skills Activity Sheets 1 - Animals.pdf | Download |
| Cutting Skills Activity Sheets 2 - Shape Sizes.pdf | Download |
| My Pencil Control Workbook 1.pdf | Download |
| My Pencil Control Workbook 2.pdf | Download |
| Pencil Control Activity Sheets 1.pdf | Download |
| Pencil Control Activity Sheets 2.pdf | Download |
| Pencil Control Activity Sheets 3 - Minibeasts.pdf | Download |
| Pencil Control Activity Sheets 4 - Pirates.pdf | Download |
| Pencil Control Activity Sheets 5 - On The Farm.pdf | Download |
| Pencil Control Activity Sheets 6 - Safari.pdf | Download |
Showing 1-10 of 10